Office Removals Bermondsey se16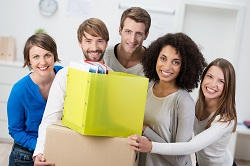 What Makes Our Company Special?

At Bermondsey Removals, we offer top-notch Bermondsey commercial removals services. We are specialized in business relocations, no matter the size of your business or the amount of stuff you need to move. We have years of experience in this niche, and our employees are highly motivated to make sure that your relocation is successful with no issues along the way!

For us, providing a secure and stress-free service for our clients is fundamental for a successful relocation. This is why we take our time to plan everything carefully before beginning the job. We will take into account all possible details before delivering your possessions safely from one place to another. Furthermore, our goal is to help you minimize downtime so you can continue working while the moving process takes place - which means no loss of profits or potential customers!

We also understand that many businesses are not open during weekends or bank holidays, so we are flexible enough to adjust our schedule so it best fits yours. After all, what matters most is that your possessions arrive safely where they should be, and as quickly as possible.


What Services Do We Offer?

At Bermondsey Removals, we provide a wide array of services related to business relocation and employee relocation. We offer:

oManaged moves - Our team of experts will take care of every single detail of your office relocation. From dismantling furniture and packing boxes, to loading them into vans and getting them to the new location - everything will be done in an efficient way!
oDisposal Services - We know how hard it can be getting rid of items which are no longer needed in the workplace. That`s why we offer disposal services for any item you don`t want to keep but don`t know what to do about it.
oEmployee Relocation - Are some of your employees relocating? Don't worry! Our team can handle any employee relocation with ease, allowing you and your workers a safe, smooth transition with no headaches along the way.
oStorage Solutions - You may need extra space while relocating and don't know where to store everything safely. Here at Bermondsey Removals we have storage solutions that fit all kinds of needs!

All these services come with various benefits such as:

1.Tracking system: We know it is important for you to have peace of mind when using our services. That's why each project has a tracker system, which gives you an up-to-date status on where items currently stand regarding their transportation process at any given time.
2.Insurance coverage: You won't have to worry about any potential damage that could happen during transport because each service comes with insurance coverage included in its cost.
3.Cost-effective prices: We strive towards offering the best quality service available at competitive rates so everyone can benefit from them without breaking their budget!
4.Personalized approach: Every customer has different needs regarding their relocation projects, and here at Bermondsey Removals we take those needs into account when creating customized plans tailored specifically according to each one's situation!


Get In Touch With Us Now!
Do not hesitate for a second longer if you need assistance with your Bermondsey commercial removal project! Contact us
and one of our experienced professionals will be looking forward to hearing from you & discuss with you further details on how we can tailor our services according to your individual needs & preferences!